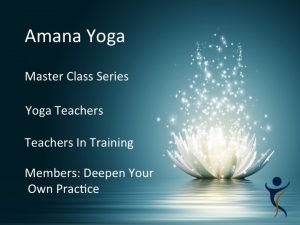 We are pleased to present the Master Class series at Amana Yoga! If you are a yoga teacher, a yoga teacher-in-training or simply want to deepen your personal practice, the Master Class will help you develop your knowledge and expertise in yoga in an interactive setting.
The 2-hour Master Classes will be held on designated Saturday or Sunday afternoons with tea served afterwards for those who wish to continue the discussion with the teacher.
Here are some upcoming Master Classes:
March 23 2-4 PM: Arm Balances – Learn the art of key arm balancing postures
April 6 2-4 PM: Restorative Yoga Techniques – Learn how to incorporate Restorative Yoga postures into your class or personal practice
May 11 2-4 PM: Breathing into Backbends – Deepen your backbends through enhanced breathing techniques
June 22 2-4 PM: Mirroring Techniques for Yoga teachers
July 27 2-4 PM: Helping Hands – Assisting techniques for Yoga teachers
August 24 2-4 PM: The Art of Articulation for yoga teachers
September 21 2-4 PM: Teaching with a Beginners Mind, the art of teaching yoga to beginners
Classes are $25 +tax and free for Amana VIPs.
Master Class